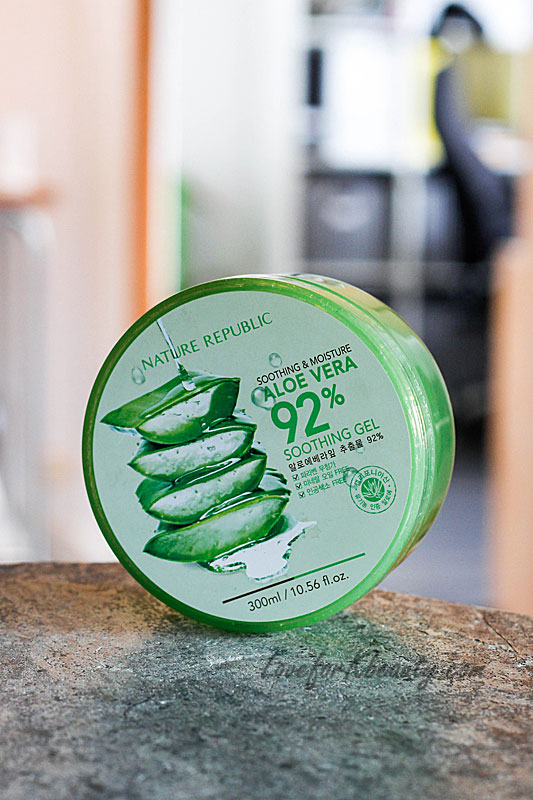 Nature Republic Aloe Gel review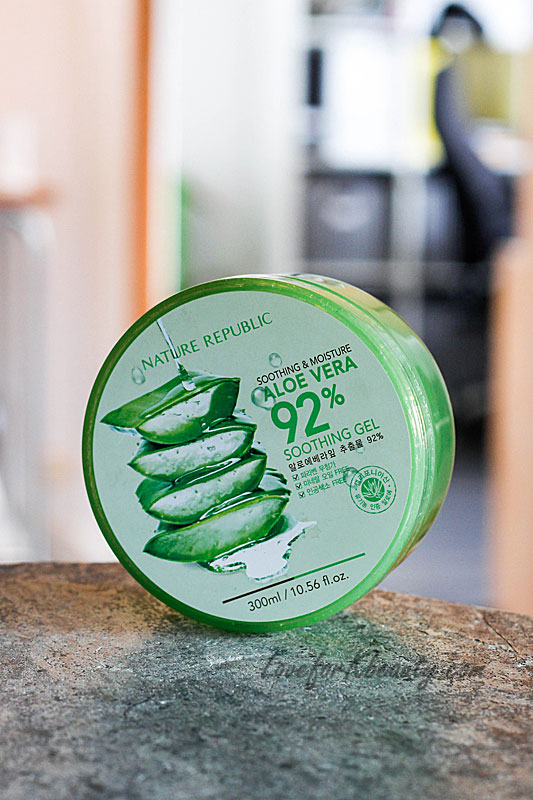 Background
300ml tub
gel is 92% Aloe Vera
all skin types
Paraben-, mineral oil- and artificial color-free formula makes it safe to use on all skin types.
~10 USD
Ingredients
Ingredient analysis: Skincarisma
Aloe barbadensis leaf extract (92%), alcohol, glyceryl polyacrylate, dipropylene glycol, butylene glycol, glycerin, propylene glycol 1,2-hexanediol polygutamic acid, betaine, sodium hyaluronate, calendula officinalis flower extract, mentha virdis (spearmint) extract, melissa officinalis extract, carbomer, peg-60 hydrogenated castor oil, triethanolamine, phenoxyethanol, water, parfum, disodium edta
My thoughts on Nature Republic Aloe Vera Gel
This is pure love, love. I simply love aloe gel and I have been using it for many years, The packaging I am not so happy with. I feel that a big jar is quite clumsy. And I don't like the idea of dipping my fingers in the jar over and over again. I would prefer if the product would come in a tube instead. But since the product is so great I can actually overlook the problem.
I Love the scent of it, it's fresh and I feel like almost eating the stuff. It absorbs really quick so it is perfect to use as a moisturizer. The consistency is watery gel like type. There will be a post later on about aloe vera gel and how you can use it, but I mainly use it as a body and face moisturizer, for sunburn, insect bites and as moisture for my hair.
I have not yet grown my own plant but I definitely will, just because I can, and I would love to try it. A lot of other aloe gels can leave a sticky residue on the skin and that doesn't really feel very nice, but this one doesn't. it penetrates the skin and makes it feel really moisturized.
Aloe gel actually saved my skin when I was living in Kenya for some time and burned my skin really bad. I just added a lot on the burned parts and it felt amazing.
The first time you try it, on yourself or kids, start by trying it out on a small patch first just to see how the skin reacts. I use it as a body moisturizer for my kids all the time and they prefer it over other products.
Where to get it
Other aloe vera products
Nature republic aloe soothing gel mist
The magic of Aloe Vera gel. These are my 9 best ways of using it.
I give this product 7/7
I'd love to meet you on Instagram you can follow me here or if you prefer Twitter I am there as well. And don't forget to subscribe to my Youtube channel.
**Disclaimer: This blog contains both affiliate and non-affiliate links. By clicking on an affiliate link, I receive a small commission (from the company I am in affiliation with, not you of course) which goes to keep this blog to support itself. For more information see disclaimer and contact.