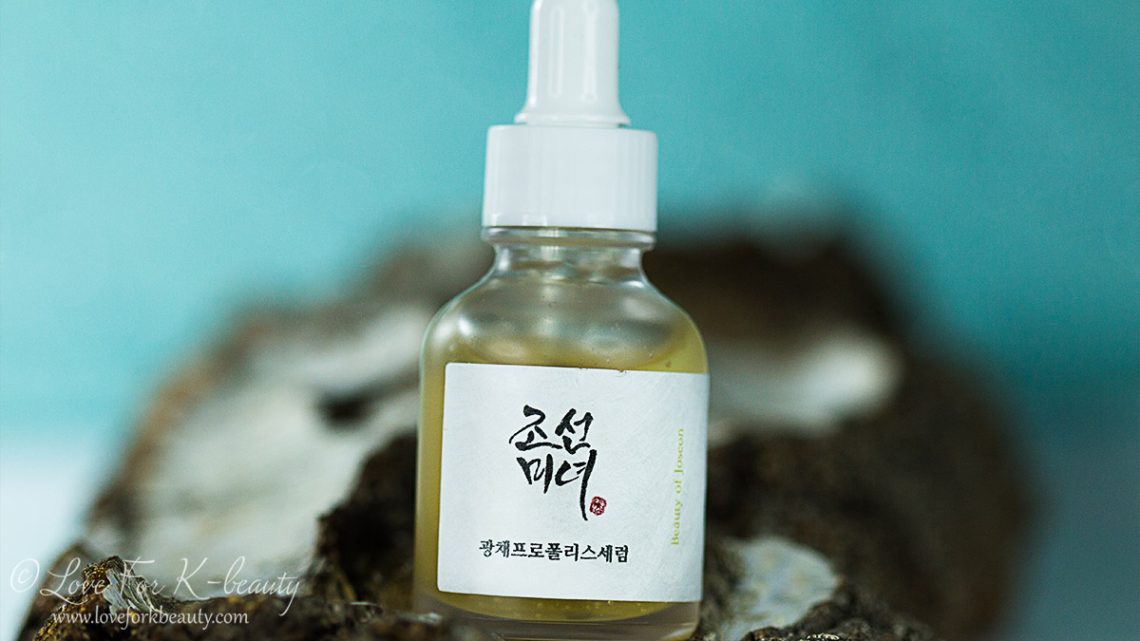 Beauty of Joseon Glow Serum review
This post contains affiliate links. By clicking on an affiliate link, I receive a commission at  no extra cost from you, but it helps supporting this blog. For more information see full disclosure here.
This product was gifted
Table of Contents
Background
Beauty of joseon glow serum
Dry, normal and combined skin types
30 ml
13 USD
Ingredients
Propolis Extract, Dipropylene Glycol, Glycerin, Butylene Glycol, Water, Niacinamide, 1,2-Hexanediol, Melia Azadirachta Flower Extract, Melia Azadirachta Leaf Extract, Sodium Hyaluronate, Curcuma Longa (Turmeric) Root Extract, Ocimum Sanctum Leaf Extract, Theobroma Cacao (Cocoa) Seed Extract, Melaleuca Alternifolia (Tea Tree) Extract, Centella Asiatica Extract, Corallina Officinalis Extract, Lotus Corniculatus Seed Extract, Calophyllum Inophyllum Seed Oil, Betaine Salicylate, Sodium Polyacryloyldimethyl Taurate, Tromethamine, Polyglyceryl-10 Laurate, Caprylyl Glycol, Ethylhexylglycerin, Dextrin, Pentylene Glycol, Octanediol, Tocopherol, Xanthan Gum, Carbomer
Description
-A honey-like serum enriched with Hanbang (traditional Korean herbal medicine) ingredients for fighting against acne, reducing pores (??)
-This Glow Serum contains niacinamide and lotus corniculatus to further enhance the brightening effect
-Anti-inflammatory, Fighting against acne
How to use it
Apply 2-3 drops to the skin and pat in gently. Use twice a day.
Claims
Anti-acne, Anti-inflammatory, Brightening, Reducing pore size
My thought on Beauty of Joseon Glow Serum
I am always confused when I read that a brand claims their products can reduce pore sizes. This is simply impossible to do. And I really don't get why a brand like this actually claims that their products does.
Pores aren't a bad thing, they are producing sebum and without them we would have painful skin. The only thing you can do to your pores, is to make them look cleaner. And by doing this they will LOOK smaller simply because they aren't filled with gunk.
Packaging
Beauty of Joseon Glow Serum comes in a regular serum packaging. A glass bottle and a pipette. The packaging is nice but nothing special.
Serums are an amazing way to get that little extra treatment for your skin. You don't need to stick to one, but can use several different serums that targets different "problems" . I usually go for brightening, anti aging, moisturizing, barrier repair or calming types of serums.
This serum is watery gel like in its texture and has a light yellow color. It is scented, but nothing overly strong or annoying.
It is an easy serum to use and to place, since it is thicker in consistency I use it as one of my lasts serums and it absorbs well but it does leaves a tacky feeling on my skin for some time.
There is definitely a glow to my skin when I use it but that glow disappears after adding another layer on top. Even though I add this as one of my final steps in my skincare routine I do add moisturizer and a sun cream on top and that is enough to remove the glow I get from this serum.
I have read so many positive reviews on this before I got the opportunity to try it myself. It was one of those products that was on my wish list but never really seem to hit my basket when I ordered.
But my hopes were really high since I haven't seen one negative review of it. Sadly this might be the first because this serum does not impress me at all. It really doesn't do anything for my skin. My skin doesn't feel moisturized, it doesn't look glowing (after adding product on top of it) and I really don't see any benefits on my skin while I am using it.
Conclusion
This is not a winner for me. I don't really like it or dislike it I just don't feels that the claims are correct. At least not on my skin. This is a loved serum by many so maybe you have a better experience than me. If you use a light moisturizer on top you might get a nice glow from it. I use heavy moisturizers since my skin is really dry.
I give this product 1/7
---
Where to buy Korean skincare
I'd love to meet you on Instagram you can follow me here. And don't forget to subscribe to my Youtube channel.
---