COSRX Ultimate Moisturizing Honey Overnight Mask review – Good or Bad?
This post contains affiliate links. By clicking on an affiliate link, I receive a commission at  no extra cost from you, but it helps supporting this blog. For more information see full disclosure here.
Table of Contents
Background
COSRX Ultimate Moisturizing Honey Overnight Mask
60 ml
18 USD
Ingredients
Propolis Extract, Butylene Glycol, Glycerin, Betaine, 1,2-Hexanediol, PEG-60 Hydrogenated Castor Oil, Arginine, Cassia Obtusifolia Seed Extract, Dimethicone, Ethylhexylglycerin, Carbomer, Sodium Hyaluronate, Beeswax, Allantoin, Panthenol, Sodium Polyacrylate, Adenosine
Description
Hydrating & Cooling: A light-weight, get type overnight mask feels refreshing on the skin and cooling down sun bum or heated skin.
Soothes flared and irritated skin: With propolis extract, this gel mask helps healing stressed skin and reduce redness.
Key Ingredient: Propolis Extract 87.26%
How to use it
As an overnight mask : Use in the end of your evening routine. Apply a decent amount on the skin. Wash off in the morning.
As a wash-off mask: Apply a generous amount of honey mask and leave it on for 15 minutes. Wash off with toner.
As a cream (in the morning): Use in the end of the basic skin care routine and proceed with your normal makeup step
My thoughts on COSRX Ultimate Moisturizing Honey Overnight Mask
I am totally in love with sleeping masks as a product group. I think it is a super simple way to use a mask and still get a lot of benefits from them. But without doing much more than sleeping. I really only see benefits with that.
I have tried the rice overnight mask from COSRX before and truly loved it. It was amazing for my dry skin. I bought it again and will do a new review on it to see if my thoughts are the same.
My skin type is really dry and when winter ones it gets even worse. I need all the moisture I can get. Cosrx ultimate moisturizing honey overnight mask is not a typical moisturizing mask. So if you are in the need of pure moisture go and check the rice version out instead.
COSRX ultimate moisturizing honey overnight mask is instead focused on calming the skin down, and contains propolis (which is a great ingredient for fighting acne scars and reducing redness on you skin).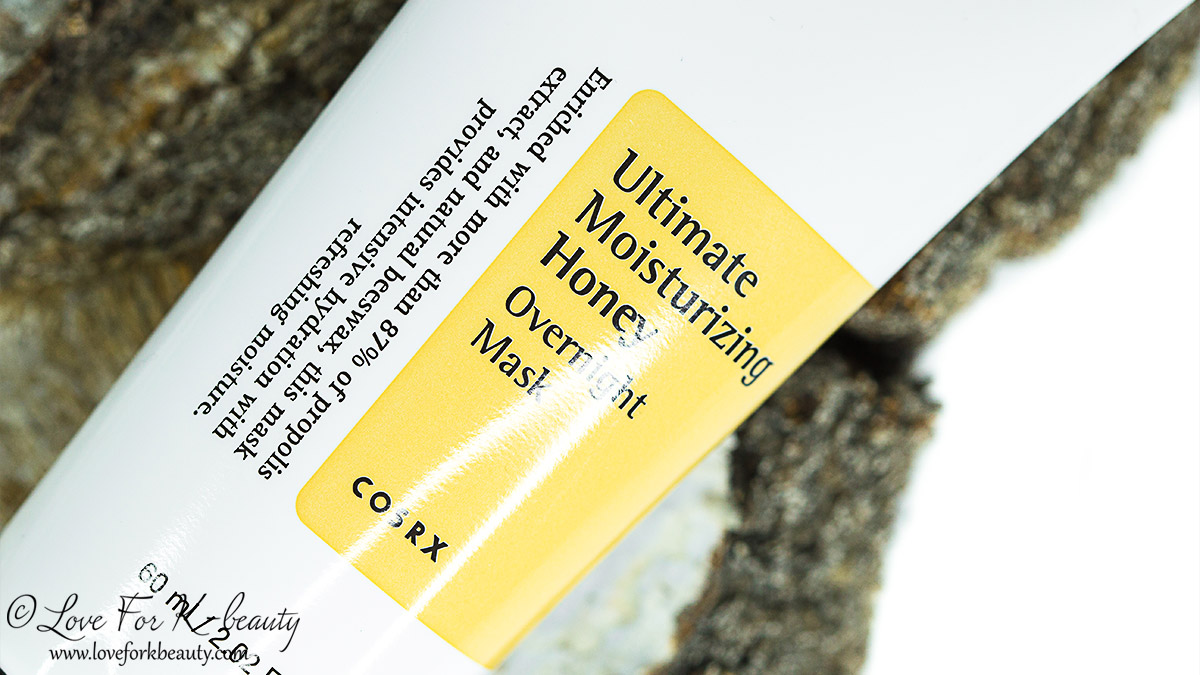 Packaging
It comes in a simple tube packaging and I do prefer this packaging over the tub it came in before. I do find it more hygienic and easier to use, since I don't need to dip into a jar to get the product out.
Cosrx has changed the formula of this product recently and there are a few differences in the ingredient list. But the description of the product is still the same.
The gel itself is light yellow and almost clear, there is some scent to it but it is mostly chemical and nothing that stays on the skin.
It is easy to apply and it does absorb well into my skin. Depending on what skincare products I use underneath it can be a little sticky on my skin. But since I do use this at night it doesn't bother me. I do need to change my pillowcase a little bit more often but that is fine by me.
As for what it does for my skin. Well, not much to be honest. I don't find that it do much at all. I don't have problems with acne scars so I really cant say anything about that. Or that it would help me when it comes to calming my skin down.
Conclusion
Even though this specific sleeping mask didn't do much for my skin. Sleeping masks are simply amazing. I do love my masks and even though this is not for me it might be amazing if you have a more normal skin type or problems with acne scarring.
I give this product 3/7
---
Where to buy Korean skincare
I'd love to meet you on Instagram you can follow me here. And don't forget to subscribe to my Youtube channel.
---