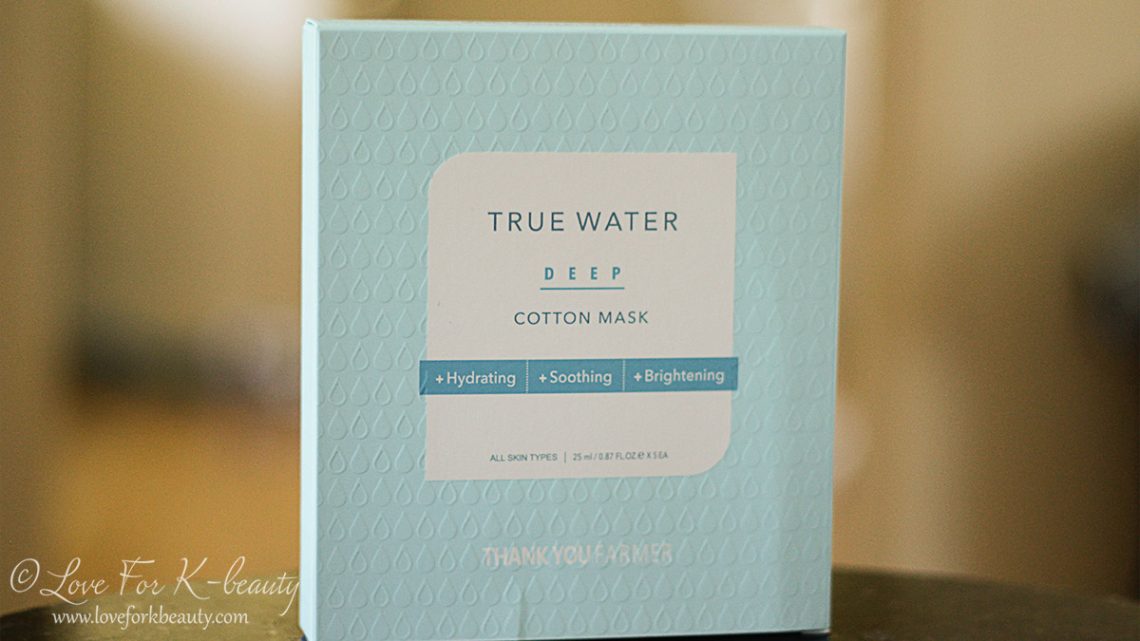 Thank You Farmer Sheet Mask Deep – review
This post contains affiliate links. By clicking on an affiliate link, I receive a commission at  no extra cost from you, but it helps supporting this blog. For more information see full disclosure here.
Background
Thank you farmer sheet mask deep
All skin types
18 USD/5psc
Ingredient analysis: Skincarisma
Claims
A sheet mask enriched with deep-hydrating essence for instant hydration.
Hydrating, soothing and Brightening.
How to use Thank you farmer sheet mask deep
Cleanse your face and apply a nice toner. Fold the mask out and apply fit to your face, leave on for 10-20 minutes (I usually keep it on longer). Then pat your skin and let the essence penetrate. Don't rinse. Then apply the rest of your products as usual.
My thoughts on Thank You Farmer True Water Sheet Mask: Deep
I won this sheet mask in a giveaway and I was so happy when I got them. I have heard so many great things about the brand so I was really looking forward in using it.
The sheet mask itself is made of cotton, and it feels very soft and nice on the skin. It is on the thicker side of masks, but it really doesn't bother me. I feel that when they are on the thicker side they are much easier to handle. The sheet mask feels really nice on my skin and it is really drenched in essence which will make it last a long time on my skin. Don't throw away the leftover essence, save it or us it on your body for a little luxury.
The fit is also very nice and I feel that it covers my face just fine.
When removing the mask, my skin feels so happy and moisturized, I do see a brightening effect on my skin, but it doesn't last me the whole day, still it is a great sheet mask for the basic needs. And it really makes my skin feel moisturized.
I give this product 5/7
---
Where to buy Korean skincare
I'd love to meet you on Instagram you can follow me here. And don't forget to subscribe to my Youtube channel.
---