This post contains affiliate links. By clicking on an affiliate link, I receive a commission at  no extra cost from you, but it helps supporting this blog. For more information see full disclosure here.
This product was gifted
Table of Contents
Background
The Banisher
All skin types
69 USD
Description (from webpage)
24k Gold plated titanium bristles promotes collagen and is antibacterial
Presses down with even pressure.
Finer and sharper bristles create less irritation
Skin Benefits
Improves the appearance of acne scars, dark marks, fine lines, & wrinkles by naturally promoting skin renewal.
Increases the effectiveness of topical skin care.
How to use it (from webpage)
Always start with freshly cleansed skin.
Sterilize Banisher with Rubbing Alcohol. Twist cap off, pour alcohol up to the fill line, and twist back on. Let the bristles touch the rubbing alcohol for at least 5 minutes. Remove cap and let banisher air dry for 2-3 minutes.
Press the Banisher 4-5 times on each area. Lift Banisher up, and rotate the Banisher about 90 degrees before each time you press down. Do not twist or rotate banisher while it is still on your skin!
Pat on 2-4 drops of Banish Oil after use.
Clean Banisher again with rubbing alcohol and discard the used alcohol. Twist cap back on for storage.
Repeat use once a week. Do not apply makeup or strong exfoliating products until the next day. Not to be used over active acne, or over other active skin conditions.
My thoughts on The Banisher
I have been wanting to try this type of product for a really long time, but simply never bought one. So I was really happy to get the opportunity to try it out and see if this is something I would use.
The packaging
The Banisher comes in a clean and simple packaging. I really love that there is a cap for disinfecting the product before and after each use. I think this is a really cleaver way to reinsure that the stamper is always clean. Other brands usually recommending a spray instead but I find this way more ensuring that the stamper is really clean.
First time I used it, my skin felt really weird. Not in a bad way but I could really feel that something was happening. Using this type of product should never hurt, instead it feels like you are just poking your face. When using this type of product it is always hard to know exactly how hard to press. And there is actually no way of telling exactly how hard you should press. So I really don't know if I am too light on my hands. But I rather be to light then press to hard.
Directly after using it the first time, my skin felt like it had a sun burn. Not a painful one, but more that there is a lot of action in my skin. I applied the oil afterwards (which really is not one of my favorite products) but if the instruction tells me, I will obey.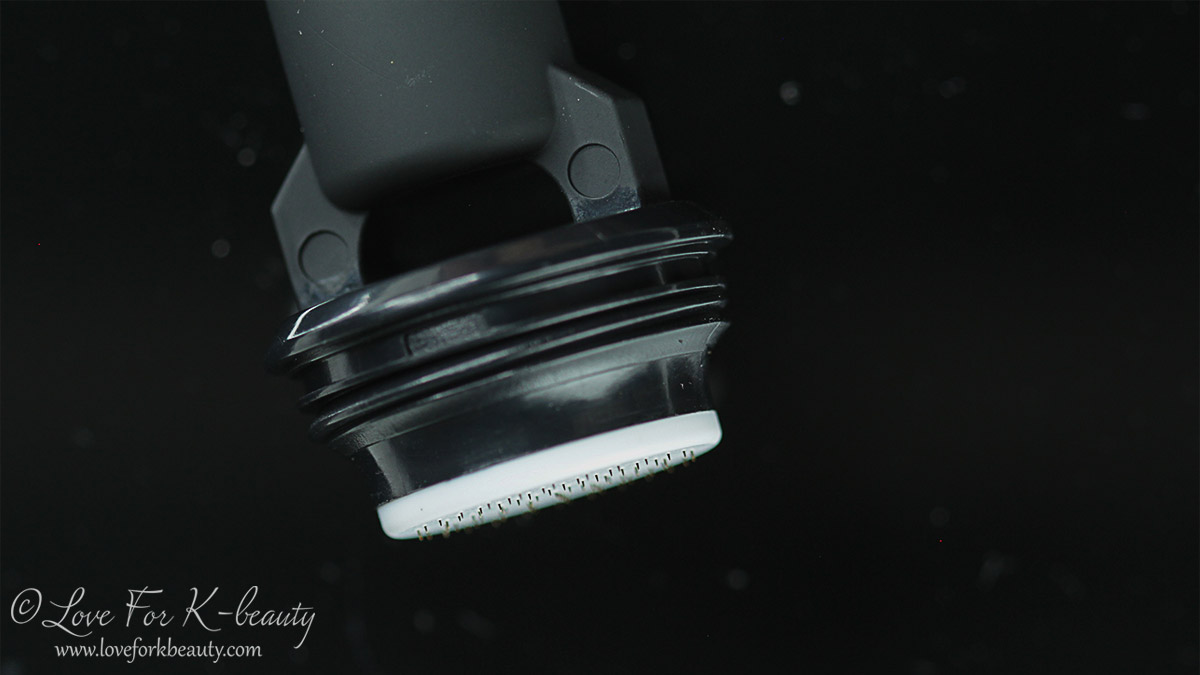 Then I repeated using the stamper once a week. As I have been using this only for 4 weeks I really can't see a difference. And I wont tell you that this is a miracle product. I have read about derma rolling and it seems to be very effective on acne scars. But since I don't have any I really cant say. As for my hyperpigmentation or fine lines, I didn't see any difference. But I do think that four weeks is way to short time to say anything actual. I will continue to use this since I do find it really interesting and I love doing weird shit to my face. The only problem is that I don't have the money to continue exchanging the stamper. But I will try it out for as long as possible and I will provide an update when I can.
Since I haven't tried a regular derma roller. You know the once you roll on your skin instead of stamping. I really can't say that one is better than the other. I do find the stamper really easy to use though.
They do recommend to replace the banisher after 8 usages which is already after 2 months. I don't know if your financial situation manages that but mine really doesn't.
The banish company do think about the environment when it comes to recycling their empty jars. That is if you live in the US. Then you will get a return shipping label. As for me living in Sweden I will not send back my empty bottles to receive a gift card since it would not make sense. Instead I am recycling them here as I normally would.
I hope that they in the future starts with needle replacements (shouldn't be that difficult) because spending 69 USD every other month just to exchange the needles is not very environmental friendly or kind to the wallet.
Conclusion
This is a type of product I would love to use on a regular basis (that is once a week) sadly I wont be able to since it costs too much. So I will probably change the type of stamp/roller to a cheaper one just to see the effect of stamping/rolling on my skin. As for after 4 weeks of use, I really didn't see any difference on my skin at all. But I do think that the time is way too short to be able to say anything so I will get back on this topic when I tried this type of product longer.
I give this product 2/7
Where to get it
---
Where to buy Korean skincare
I'd love to meet you on Instagram you can follow me here. And don't forget to subscribe to my Youtube channel.
---