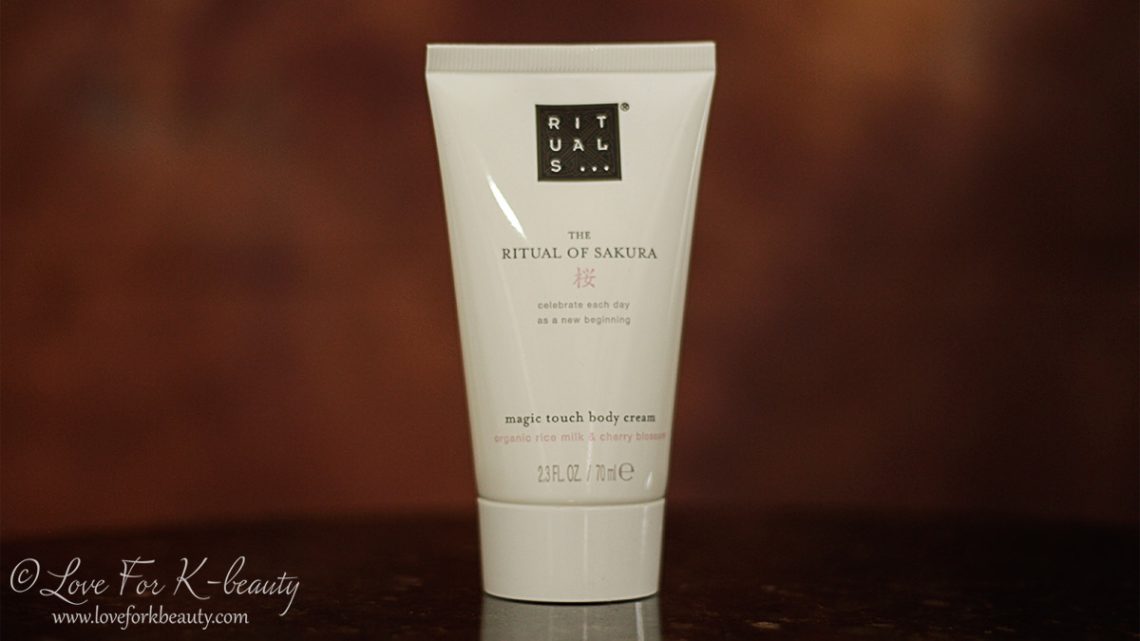 The Rituals of Sakura magic touch body cream review
This post contains affiliate links. By clicking on an affiliate link, I receive a commission at  no extra cost from you, but it helps supporting this blog. For more information see full disclosure here.
The Rituals of Sakura magic touch body cream
Background
70-220ml
7-20 USD
Ingredients
Water, Cetearyl Alcohol, Glycerin, Caprylic/Capric Triglyceride, Propylheptyl Caprylate, Helianthus Annuus (Sunflower) Seed Oil, Undecane, Tridecane, Oryza Sativa (Rice) Extract, Centella Asiatica Extract, Prunus Avium (Sweet Cherry) Fruit Extract, Allantoin, Ubiquinone, Tocopheryl Acetate (Vitamin E), Glyceryl Stearate, Ceteareth-20, Ceteareth-12, Cetyl Palmitate, Isohexadecane, Propylene Glycol, Sodium Polyacrylate, Tocopherol (Vitamin E), Caprylyl Glycol, Butylene Glycol, Sodium Metabisulfite, Carbomer, Fragrance, Benzyl Salicylate, Cinnamyl Alcohol, Citral, Citronellol, Coumarin, Geraniol, Hexyl Cinnamal, Isoeugenol, Linalool, Butylphenyl Methylpropional, Alpha-Isomethyl Ionone, Limonene, Phenoxyethanol, Potassium Sorbate, Sorbic Acid, Citric Acid, Sodium Citrate, Sodium Hydroxide
My thoughts on The Rituals of Sakura magic touch body cream
I received this from a friend together with a shower foam because she simply couldn't stand the scent of it. I really understand what she is coming from and totally agree with her on that point. The scent is really strong and simply takes over everything. I am usually really sensitive to strong smells (or my nose is) and usually my overall experience is dropped if the product is overly scented.
As a moisturizer for my skin it does an amazing job. It really is the only thing I like about it but that part is amazing. The smell does linger on and if you are a person who uses a lot of scented products the overall scent of you might be weird. I usually only want to add some perfume as a scent to be sure what I actually smell like.
The Rituals of Sakura magic touch body cream absorbs fast into my skin and doesn't leave any sticky feeling or oiliness on my skin. It is also very easy to apply even thought it is rather thick in consistency. Very often when a cream or a moisturizer is thicker one need to work it in to the body. I have a huge problem doing this since I live with chronic pain and repetitive motions cases problems with inflammations in my body.
The Rituals of Sakura magic touch body cream comes in two sizes. The large size 220 ml also comes as a refill which is really nice, and you can save some money on the packaging.
I give this product 4/7
---
Where to buy Korean skincare
I'd love to meet you on Instagram you can follow me here. And don't forget to subscribe to my Youtube channel.
---